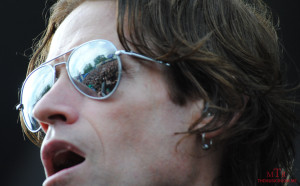 Buckcherry blazed through a set of their hits and new material when they played Riverbend Music Center as a part of the Rockstar Energy Uproar Festival on 8/17/14. While the veteran rockers very well could have been a headliner on the main stage, they were the perfect exclamation point at the end of an afternoon of great acts on the festival stage.
Buckcherry is one of those bands that can sometimes be overlooked, but as they played through hit after hit, such as "Lit Up," "Sorry" and "Crazy Bitch," it is clear the band has established a legacy that deserves respect. Despite the number of fan favorites in their arsenal, they also played numerous cuts from their new E.P., named after their favorite four letter word, "F**K."
Josh Todd was the ultimate front man as he slithered around the stage. Lead guitarist Keith Nelson stayed low key, but delivered the big sleazy riffs that Buckcherry has become known for. From the opening notes of the set opener, "Lit Up," the crowd went crazy. There is not a weak member of the band, but I have to say that rhythm guitarist, Stevie V. was a blast to watch. He was in rock star mode every second of the bands performance. From the rock star poses, to his head banging, he did it all with a huge smile on his face the whole time. His enthusiasm for the music really seemed to rub off on the other members of the band as well. The whole group really seemed dedicated to what they were doing on the stage, and gave the fans their all.
Unless you are easily offended, you should really check out what Buckcherry is up to these days. There are not too many bands out there waving the flag for rock n' roll music these days like these guys. Whether it be BUYING their new cd, or checking out a live show next time they come through your area, support this band.
This post has been brought to you buy the letter "F"
Check out our Buckcherry photo gallery from the show!
Set List
– Lit Up
– Rescue Me
– All Night Long
– Somebody F'd with Me
-Everything
– Sorry
– Dirty Mind
– Say F It
– Tired of You
– Gluttony
– I Don't Give A F
– Crazy Bitch
by